Google Pay Selfie Stamp Collect Trick – Trick to Get Selfie Stamp From Gpay – How To Collect Selfie Stamp in Google Pay:- Hello Guys, Google Pay 2020 Offer is live Offering Rs.202 to Rs.2020 For Many Users. Many user Got More than 1000 in Their Google Pay Accounts. We have Also Posted Tricks to Get Other Google Pay Stamps
---
How To Collect Selfie Stamp In GooglePay 2020 Offer
Google is Recommending This 2 Below Step For To you Get The Selfie Stamp.
---
1st Method To Get Selfie Stamp in GPay is :- 
Do 2 Bill Payments – Done Bill Payments Of ₹300 ++ Using Google Pay App.  After 2nd Payment, You Could Get Free Selfie Stamp in  GPay 2020 offer.
---
2nd Method To Get Selfie Stamp in GPay is:- 
Refer 2 Friends – Refer Your 2 Friends and Family member With Your Google Pay Referral Code link & Tell Them To Do ₹1 first Transaction on Google Pay. You Could Win Selfie Stamp By Referring 2 friends as Per Google Pay Condition.
---
3rd Method To Get Selfie Stamp in GPay is:- 
Step:-1. First of All User Download Google Pay app from Playstore if You are New then Download Google Pay app is offering Rs.21 on Signup & Rs.81 per Referral for the limited time period.
Step:-2.  Now Click on Google Pay Ads Link & Just listen to Google Pay Ads from Youtube or TV ( Samples below)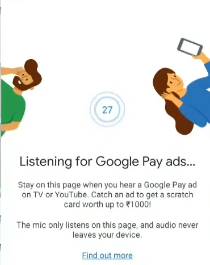 Step:-3. Now Once the Ad is Recognized by Google Artificial intelligence Algorithms, You will get assured Scratch card.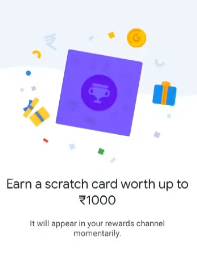 Step:-4. Repeat the above 1-3 Steps again to Get another Scratch card of Rs. 1000 again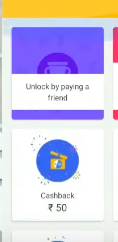 Step:-5. Now Check Your Rewards  in  Reward Section of the Gpay App and Scatch the Card to See your prize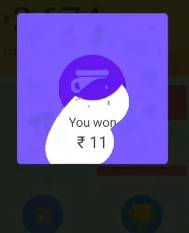 ---
Other Methods To Get Selfie Stamp In Google Pay 2020 cake offer [Unverified Method]  
You Done Pay Bill In Cred App Or Airtel Banks App By Google Pay UPI. Some Of tech2tips.com Readers Got Selfie Stamp Via This Tricks.
---
Also , You Can Share Your Stamps Like sunglasses-DJ-pizza-selfie-ballon-toffee With Your Friends & You Could Get Selfie Stamp in Google Pay As All This Are Part Of Layer 2 In Google Pay Cake Offer.
---
Done Transaction In UrbanClap App With Google Pay With Min Of ₹249 , You Will Get Extra Coupon Of make my trips, Swiggy and  Grofers Etc. & Also You Will Get Disco Or Selfie Stamp in google pay offer.
---
It's Also Working Google Pay 2020 Image Scanner Or Google Pay On Air can Fetch You Daily  4 Stamps & If You Are Lucky Enough you could Get Pizza, Disco or Selfie Stamp From This Method.
---
[Try Your Luck] How To Get Selfie Stamp In Google Pay 2020 Offer :
This Tricks is totally luck base but it is verified by Our Team and by one of my friend personally. So Just Give a Try and Get A Selfie Stamp In Google Pay 2020 Offer.
1. First, Users has to need is 6 Balloon and 6 DJ Stamps in Google Pay 2020 Offer.
2. Gift 5 Balloon and 5 DJ Stamps Stamps to Different-Different Users.
3. Ask all that 10 Different user to Collect Balloon Stamps  and DJ Stamps.
4. After your friend will Collect that all stamps, You will get 5 Return Gift Stamps.
5. Open it and you have 70 to 80% Chance to Get a Selfie or Disco Stamp in google pay.
---
About Author : Tushar AhirContact Email :
gujaratpolic3377@gmail.com
Notice :
અમારા લેખનું લખાણ કોપી કરતા પહેલા અમારી લેખિત મંજુરી લેવી જરૂરી છે.
Hello Readers,
Tech2tips.com
is a private website and don't represent any government entity, organizations or department. Whatever information we shared here is gathered from various Gujarat government's official website and news papers and other websites. We also cross verify the job when we post any job but do always cross verify the job vacancy by yourself to prevent fraudulent happening in the name of job.